2023 National WTS Sponsors & Exhibitors
Thank you to our attendees! We can't wait to see you next year!
This year we celebrate 20 years together.
As we reflect back, we can see the evolution of the field of outdoor behavioral healthcare, but we also know the growth we must have. Last year, we welcomed over 400 attendees in Park City and we're excited to be moving to St. George, UT. We can't wait to have you with us.
Below are a few notes and reminders regarding our keynote, registration, hotel, workshops and presentations. Full registration tickets include all events, so purchase of individual event tickets isn't necessary, but are great if you're just stopping by for that singular event.
If you have any questions, please feel free to contact us at info@obhcouncil.org and include a detailed subject line.
Introducing Keynote Speaker, Ari Gunzburg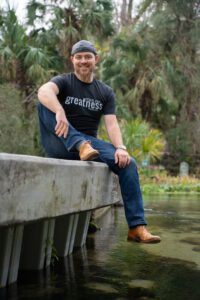 If it's outdoors, you can probably find Ari Gunzburg doing it. From scuba diving to paddle boarding, hiking to rock climbing, caving to kayaking, and many activities in between, Ari loves the outdoors for the life changing adventures and true introspection it provides. 
Ari went through a lot growing up, from a tragic moment as a young child, to partying
and using drugs as a teenager, to scuffles with police, and more. These moments sparked a chain reaction of positivity and growth as Ari slowly turned his life around and began working to create lasting impact in the world. Today, Ari uses the wisdom and strength forged through these experiences to empower others to unlock their own everyday greatness.
As an award-winning speaker, writer and coach, Ari brings his expertise on cultivating a greater sense of belonging to conferences, board rooms, and beyond, inspiring people to unleash their greatest selves. Ari uses captivating stories of the great outdoors to help others find the power of being radically engaged and a part of something.  Ari continues to crack the code on human connection, helping people seek real belonging and real community using his essential framework, the 5 Keys To Greatness.
National Wilderness Therapy Symposium
When: Wednesday, August 23rd to Friday, August 25th, 2023
Where: Dixie Center in St. George, Utah
Dixie Center
We will be moving to St. George, UT for our National Wilderness Therapy Symposium, which will take place at the Dixie Center from Wednesday, August 23rd to Friday, August 25th.
For hotel information, please read our Welcome letter.
General registration includes all workshops and events including meals offered throughout the Symposium. 
If you have any dietary restrictions please let us know so we can accommodate as much as possible by email info@obhcouncil.org Subj: Food restrictions at WTS.
Single day tickets are available for purchase will include meals offer on that specific day.
Single event tickets are available for purchase for the Keynote and Eagle Award Dinner, Networking Reception and the Ember Award Reception.
This year, lunch will be provided on site both days of the Symposium.
Ticket sales will start May 26th with early bird registration; regular registration will be on sale July 1st. Sales will end August 11th.
Pre-conference note: Be aware that the pre-conference hike requires pre-registration and is only open to those who are attendees of the full Symposium.
Cancellation policy - To cancel a completed registration, please contact us at info@obhcounil.org; Subj: National Symposium Cancellation. If you have paid for registration and have been selected as a presenter, you will have the option to either be refunded or transfer the registration.
Refund note: a 100% refund will be granted up until 7/10/2023; a 50% refund will be granted up until 7/28/2023. No refunds will be given for cancellations requested on and after 8/1/2023.
For information about our program, please check out our schedule.
Programming will be provided via Results at Hand, a digital conference app  – more information about the conference app will be emailed to you after you complete your online registration.  Be sure to download the conference app prior to arriving.  
All CE-eligible presentations and workshops will require attendees to sign into Results at Hand and evaluate each session in order to receive certification of hours. Physical sign in forms will be provided in each CE-eligible presentation.
Our call for proposals has closed. For more information please check out the Call for Proposals page.
Opportunities for 2023 Sponsors and Exhibitors
We will have sponsorship opportunities available for the National WTS. For more information, please contact us at info@obhcouncil.org Subj: Symposium Sponsorships.